Free GDPR awareness talk available.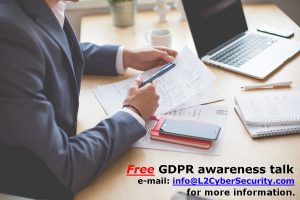 Each week during August, September and October 2017, L2 Cyber Security Solutions are offering one Free GDPR awareness talk, lasting up to an hour. This talk on the General Data Protection Regulation is available for any company, networking group, association, or sports and social club in the Mid-West of Ireland. We will give a high-level overview of the GDPR and clear up any misconceptions that exist about it.
As there is only one free GDPR talk available per week, availability is limited, so to book one, please send an e-mail to info@L2CyberSecurity.com with your contact details and indicate which week you would like to avail of the talk. We will then schedule something with you.
See the GDPR section of our site for some useful information and also visit the GDPR Awareness Coalition website (we are a partner company of theirs) for lots of helpful infographics.